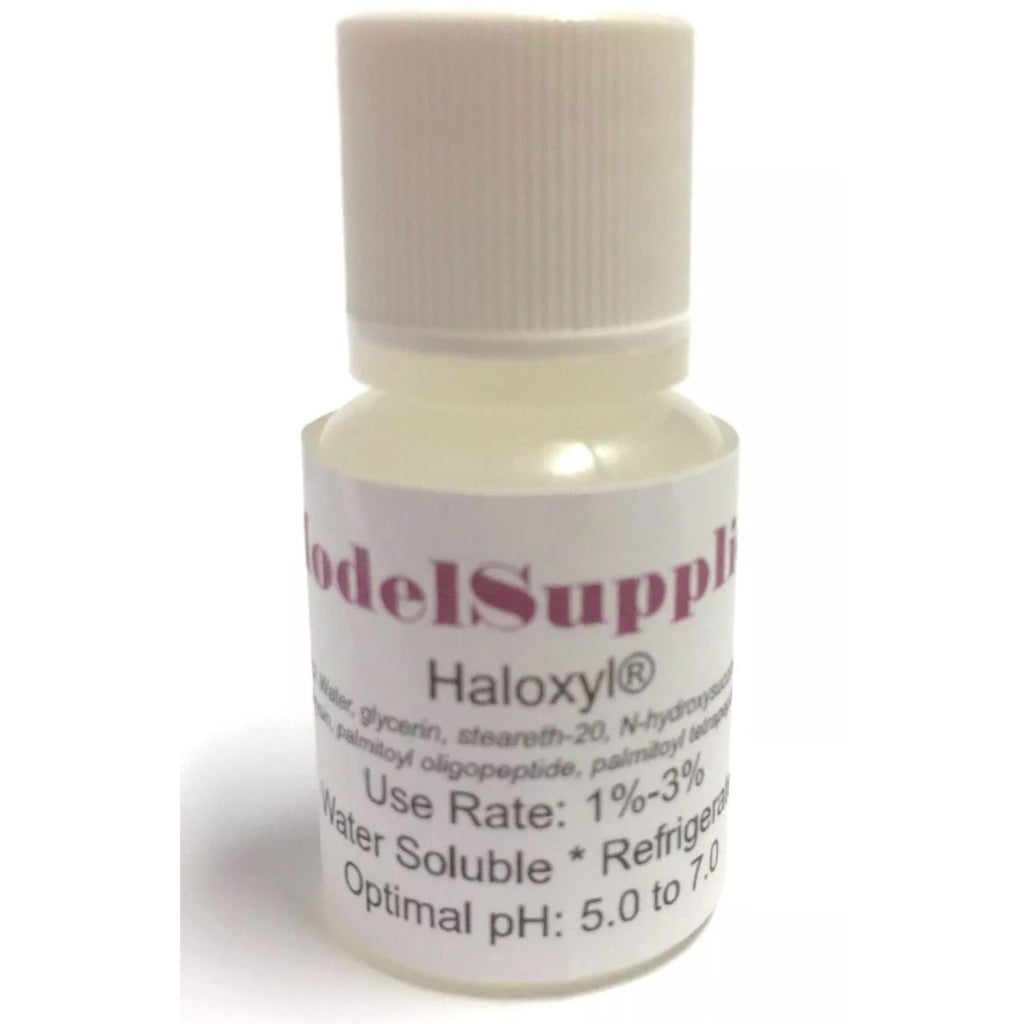 7 ml Bottle of 100% Haloxyl ® Lighten Dark Circles NEW

Due to Popular Demand!

Attn: Skin Care Formulators
We have listened to your requests!



*This Proven Ingredient*

will make your next under eye cream or gel
the talk of the town!

*

Use Rate: is just 2% of total formula. Water soluble*

This Listing is for

7 ml

of this pricey ingredient!

*Note the use rate is only 2% so it goes FAR!*

Enough to make 140 ml (or about 3.5 oz)

Add .6 ml (about 1/2 ml) to 1 oz (or 30 ml) cream

*Pipette included for measuring when available -

(sometimes we run out of things and would not hold up your order for a pipette!)



This is an ingredient - you will need a separate cream to add this to - it is very, very simple to just stir it in~!


Haloxyl®
No Additives!

THE Dark Circle Ingredient!
Supplied as
INCI Name: water, glycerin, steareth-20, N-hydroxysuccinimide, chrysin, palmitoyl Oligopeptide, palmitoyl tetrapeptide-7.

Haloxyl is a combination of active ingredients formulated to absorb and eliminate colored blood pigments in the skin that are responsible for dark circles under the eyes. It also has an anti-inflammatory effect and reinforces firmness and tone of the eye area.



Haloxyl reinforces firmness and tone of the eye area. It activates the elimination of blood-originated pigments responsible for dark circle color and local inflammation.



Haloxyl reduces undereye dark circles and reinforces firmness and tone of the eye area. In a study with 22 female volunteers the application of a gel containing 2% Haloxyl for 56 days resulted in an improvement of dark circles in more than 70% as assessed by image analysis and computerized measurement of color parameters.


Use Rate: 2% of total formula. Water soluble, incorporate at or below 45oC (113oF) to formulations.

Great for dark-circle treatment products such as creams, gels and lotions, eye contour care and concealers!



There may occasionally be a 2-3 day delay for restocking.


We normally ship same to next day!

By this time in a few days, you could be actively removing your dark under eye circles and creating something to remove the circles of others as well!


---
Share this Product