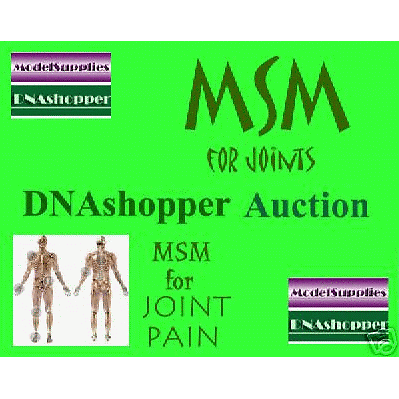 15 gm MSM Methylsulfonylmethane Use 1-25% Anti-Acne
Noticeable difference for MANY with acne that does not respond to other anti-acne ingredients.

KEEP OUT OF REACH OF CHILDREN
This auction is for
15 gram of 99.9% PURE
MSM
(Methylsulfonylmethane)
 in plastic zip baggie-doubled.
 Appears as a white, very fine powder

40 Mesh (The consistency of Sugar).
Includes a 1 oz. plastic bottle with flip cap
&
tiny scooper to help with measuring...
MSM is a natural sulfur compound that contributes to healthy skin, hair and nails. MSM has been used orally and topically to aid skin disorders.
Translation...
MSM will help clear up skin problems like acne & rosacea.

Also, MSM is known to relieve pain, as well as swelling and inflammation in joints and other connective tissue. It has remarkable therapeutic properties, especially for the healing of injuries. It is often incorporated into creams and lotions.
MSM, Methylsulfonylmethane, is a naturally occurring nutrient found in plants, meats, dairy products, fruits, and vegetables. MSM is therefore found in the normal human diet. It is an odorless, tasteless, white water soluble, crystalline solid in its purified form.
MSM supplies sulfur to the body which allows it to heal itself. It produces muscle relaxation and reportedly a whole host of beneficial qualities. It has been used with great success in eliminating chronic back pain, muscle pain, repairing cut, scraped, burned and damage skin. We've seen reports of MSM eliminating wrinkles, brown spots, skin tumors, and spider veins. MSM is being used for burn victims and repairing scar tissue. Many people report relief from allergies after using MSM. Other reports indicate that MSM will remove parasites from the body, and help the body to detoxify itself.
MSM is anti-inflamatory and anti-microbial. MSM feeds the formation of collagen and elastin while preventing and reducing cross-linking between cells, which is the primary cause of wrinkles and scar tissue. MSM is a natural sulfur compound that contributes to healthy skin, hair and nails. MSM has been used orally and topically to aid skin disorders. When used topically, in the form of a cream or lotion, sulfur is helpful in treating skin disorders including acne, psoriasis, eczema, dermatitis, dandruff, scabies, diaper rash and certain fungal infections.
MSM
should be used in the water phase when making lotions or cremes. It can be used in 1% up to 25% depending on the formulation.
The same ingredient used in THOUSANDS of successful  products Worldwide!
Make your own anti-acne preparations, add to your existing lotions



Make your own lotions for sore muscles, even wrinkles!
Add to healing Balms
Add to ANY TOPICAL FORMULATION such as: Creams, Lotions, Balms, etc.
Add it to EVERYTHING!!!!!!!!!

Water soluble-use in water phase of formulations. 
Usage: 1%-25% Goes a LONG WAY!
This is an ingredient and I cannot be held responsible for the skill level of the person mixing solutions.

Look at our other Ingredients!
---
On Nov-19-11 at 20:58:21 PST, seller added the following information:
---
On Dec-20-11 at 07:16:34 PST, seller added the following information:
---
Share this Product