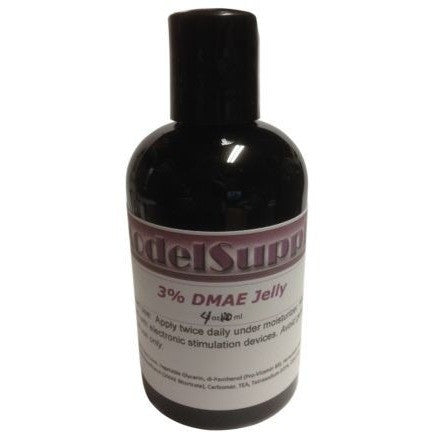 4oz Black Bottle Clear 3% DMAE Jelly in Aloe Base
Packaging/Label may vary depending upon availability.
ModelSupplies
Black Plastic Bottle with flip-top cap
3% DMAE in Aloe Base
This is a clear Gel
::: No Frills :::
Work Horse!
Perfect for skin with Sun Damage, since it contains Alpha Lipoic Acid, to fight Sagging Skin, helps Repair Discoloration & even skin tone.
NOW
you have the power to lift, support, change and remodel your skin. Apply dime size twice daily under moisturizer. Many DMAE users report seeing results for fine lines and sagging within 20 minutes of first application with improvement continuing to get better and better with each use!
4 oz Bulk Size Product!
See our other listings!
Excellent!
Can also be used as a mask.
Does not *need* to be washed off.
Always use a sunscreen.
Contains No petroleum products!
Perfect for Customizing with your favorite ingredients. Excellent for use with electronic stimulus device for anti-aging! DMAE speeds results!
PLEASE CONTACT US
if you are not happy with any element of your experience with us!
Thank you~!
---
Share this Product