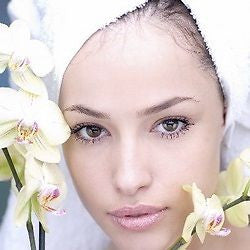 NEW 3 gm Alpha-Arbutrin Skin Lighteners Whitener Bright

You MUST USE SUNSCREEN while using this ingredient~!
(No matter where you get it)

This listing is for a


"5 gm jar"


FILLED
with


PURE



Alpha-Arbutin Skin Lightener Powder~!


3 grams by weight
Teaspoon by volume

A proven skin lightener, whitener, brightener.

I personally believe that all skin colors are beautiful,
but understand irregularities can make some feel awkward.
If you choose to whiten, lighten, brighten or remove
age spots, freckles, liver spots, etc.
use something proven to work and be safe.


Alpha-Arbutin.





It can be used with other lightening agents, too~!



Use Rate: Just .2% to 2%

Alpha-Arbutin Powder

More than enough to make a 100 gm or 3.6 oz Cream
that is
2% Alpha-Arbutin

Add 2 gm Alpha-Arbutin

HOW TO:

First, dissolve with water by adding drop by drop of water to the alpha-arbutin in a separate bowl, then stir dissolved alpha-arbutin into your cream, gel or lotion~! If your cream is very thick and stiff, you may want to remove from container, place in another bowl, use hand mixer to mix, then transfer back to the container.

Important: Always use Sunscreen when using this product~! All skin lighteners reduce your ability to guard your skin from the sun's rays. Use a higher SPF to counter =)

Description: Alpha-Arbutin (4-Hydroxyphenyl-D-lucopyranoside) is a synthetic and functional active ingredient for skin lightening. Crystalline, white powder. Water-soluble. Stable in the pH range from 3.5-6.5. 
INCI Name: Alpha-arbutin.
Properties: Alpha-Arbutin blocks epidermal melanin biosynthesis by inhibiting enzymatic oxidation of Tyrosine and Dopa. Promotes skin lightening and an even skin tone on all skin types. Minimizes liver spots.
Use: Recommended concentration 0.2-2%, add to water phase of formula, best results use product containing Alpha-Arbutin for at least 2-3 months.
Application: All kinds of skin-lightening products including lotions, creams, makeup products.
Use rate is .2% - 2% (one percent to five percent) of the total batch weight. Increased use rates may cause skin sensitization. Always test first.
Adding Alpha-Arbutin to formulations is easy. Since this material is water soluble, simply measure out the required amount and dissolve into the water phase of your formula. If you have an already existing lotion to which you would like to add alpha-arbutin, dissolve the material in a small amount of distilled water and add to the base. Mix well with a stick blender or other mechanical stirrer.
You MUST USE SUNSCREEN while using this ingredient~!

This is an ingredient and I cannot be held responsible for the skill level of the person mixing solutions.

SHIPPING: We combine shipping~! Please submit a request for a total when you are finished shopping for the best deal. Sometimes we run out of things and need to restock. We'll do our best to let you know. Please ask before ordering if you are concerned with a wait up to a week. Thank you~!

Look at our other Ingredients!
---
On Nov-19-11 at 20:58:46 PST, seller added the following information:
---
On Dec-20-11 at 07:16:10 PST, seller added the following information:
---
Share this Product